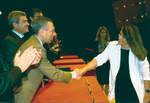 Maria Cesira Pezzoli, CEO of
PEZZOLI TEXTILE ART awarded
by Giorgio Sangalli.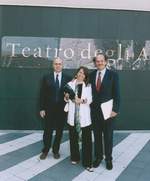 CEO and Executives of PEZZOLI TEXTILE ART before the theatre.


Pezzoli Textile Art awarded
On 22 June 2003, in Milan (Italy), inside the marvellous "Arcimboldi Theatre", was held the first edition of the "Piazza Mercanti" award. This prestigious award was founded by the Milan Chamber of Commerce in order to reward those entrepreneurs who have contributed to the development of both industrial and social systems in the Milanese society.



For the "New Enterprise" category the award was given to Pezzoli Textile Art on these grounds: The Company deals with fabrics for interior decoration using ancient hand-looms and art-craftsmanship techniques coming back from the Renaissance period.



For the other entrepreneurial categories, awards were given to Mr Marco Tronchetti Provera for Telecom Italia, Missoni for Missoni SpA, C. Romiti for RCS Editori.